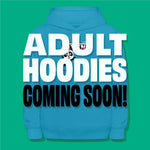 Character Comfort Collection ADULT Hoodies & Crewnecks Coming Soon
Please note only Kids Size Character Comfort Hoodies are available at this time
SHOP NOW
Who Are The VeeFriends?
VeeFriends are the manifestation of metaphysical concepts and virtues like love, kindness, gratitude, resiliency, adaptability, ambition, intuition and more. They exist to remind us of how to shift our mindset to a place of positivity, personally, in partnership, and professionally. They reinforce how to be the best version of yourself, and how to bring out the best in others - and together, how to help shape the world around us.
They are facets of our dormant souls and aspirations, given consciousness. Our spiritual guides in our daily journey of self improvement into a world where we unselfishly make our mental  and physical well being a priority and attain the focus we need to achieve our dreams.

About VeeFriends
VeeFriends is a contemporary entertainment company that combines art, storytelling, collecting, consumer goods, events and innovative technologies to build a community around a movement of positivity and kindness. 
The company's mission is to scale 283 unique VeeFriends characters and their attributes to create a better world. These characters foster a sense of community and inspire positivity, creativity, self-discovery, accountability, and personal growth.